Downtown Clermont FL is located 30 minutes west of Orlando also known as the South Lake Downtown area by locals. As you enter the downtown Clermont area on 8th Street you see a small lake with a bustling fountain to your left. We pass the tree-lined streets to get to the main areas of downtown Clermont. This area consists of one mile wide by .5 miles located in between Lake Minneola and going westbound on route 50.
Check out the YouTube Video Here:

Victory Pointe Park
Victory Pointe Park has dual uses to filter out storm water and is also a beautiful park passageway to walk and enjoy the views. This facility improves Clermont's quality of water. Visit the City of Clermont website here for additional information located in the master plan.
---
Suggested Read:
---
The Historic Village
Historic Downtown Clermont is about Clermont's History. Discovered in 1884 and incorporated in 1916, Clermont is full of Historical charm. For instance, there are photos of Montrose Street, the first car in Clermont, photos in the 1920's, and 1940's photos.
The Waterfront Park
The Waterfront Park is located on West Osceola Street. Take a look and enjoy the view on this 100 foot plus dock looking out on to Lake Minneola. Stunning views where you see Lilly's On The Lake restaurant with its private beach. Great place to kick back and relax and eat a Caribbean meal. Check out their events on their website Lillysonthelake.com for karaoke nights, happy hours, paint nights, tech nights, and open mic nights. Waterfront Park is very popular for exercise where you can run, walk, bike, roller blade and enjoy the view.
The Champions Splash Park

The Champions Splash Park is a Clermont splash pad for Tots. It is located in east side of Waterfront Park. It hosts a pavilion with tables, a playground with swings and slides, and small lakefront beach where your tots can enjoy the water on a hot summer day. Please make sure to check out my YouTube channel for a future video on Orlando splash pads for Tots. For right now you can visit Fun4lakekids.com to look up many other fun splash pad sites.
The Farmer's Market on Montrose Street
Let's go to the Farmers Market located on Montrose Street Sundays 9 to 2 p.m. As we enter the Montrose Street Farmers Market you see your flower stand right next to the City Hall, locals strolling the street, hot kettle popcorn, and vendors giving warm welcomes. Many creative crafts, juice stands homemade pasta and soap. The Bacchus wine shop offers tastings and you can also schedule a private tasting for large groups. Go to their website and make sure to schedule an appointment you can also get coffee in Clermont Florida by visiting the Clermont Cafe. Check out more things to do in the downtown area here.
Breweries – Suncreek Brewery and Clermont Brewing Company
Let's visit the two new breweries in town. After that, we will talk about the downtown restaurants and shops. There's no shortage of warm and friendly hostess' at the Clermont Brewing Company. For instance, I was greeted by very friendly and welcoming hostesses that directed me to visit the outdoor pavilion. Similarly, the next brewery Suncreek Brewery which is partnered with Savoree restaurant and Michael Ali's Coal Fired Pizza. Savoree restaurant makes handcrafted salads and sandwiches. Check out their menu here. In addition, Suncreek Brewery is partnered with Michael is Coal Fired Pizza, see their menu here.
Downtown Clermont Shops and Restaurants
As we enter Montrose Street you will see downtown Clermont restaurants and downtown Clermont shops. The animal league organization is more than just a shelter because they focus on bettering the lives of animals through educating, giving compassion, and adoptions. Visit their site here for available pets.
There are more eclectic and charming mom and pop store fronts for home decor and trinkets. Take a peek inside Erika's Tea Room for fashion shows, luncheon, high tea and many other events here.
The Montrose Street Market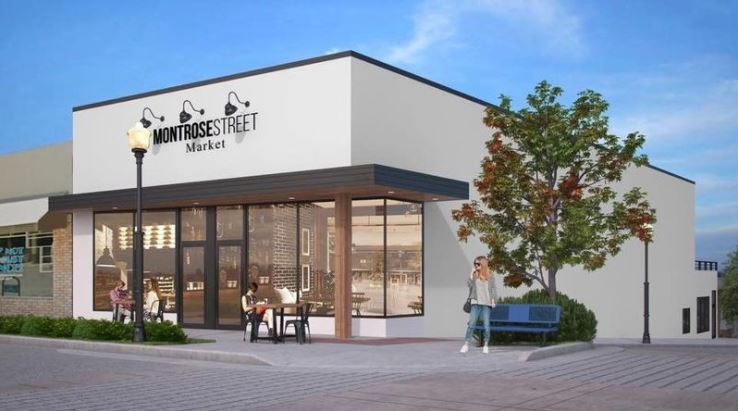 According to the sltablet.com, the future site of the Montrose Street Market is opening on August 2019. therefore, various businesses are projected to be all set up when its ready to open. The businesses inside the market range from roasted coffee, a crepe bar, and wine bar. The restaurant More Than Cheese has a creative approach to cheese. Watch as a 10 lb semi-hard cheese wheel is melted and scraped onto your choice of sides. Fun to watch an even more fun to eat I bet! Visit their website for the menu.
Seeing Corner Stone Guitars and Fine Instruments storefront is like a breath of fresh air because there is no shortage of home decor stores on Montrose Street but music stores there is definitely a shortage in Clermont. It's good to know there are more options.
In conclusion, make sure you stop by the Little Free Library where you can borrow a book learn how it works here.
I hope you enjoyed exploring downtown Clermont and the many wonderful shops and things to do.
---
Suggested Read:
---
In conclusion, whether you are buying a home, selling a home, thinking of moving to the Orlando Area or just browsing, make sure you get the latest market updates, tips on selling, moving hacks and so much more by following Krish on YouTube, Pinterest, Facebook, and Instagram.